BACK TO THE HOMEPAGE: DOOL HOMEPAGE
The History of the Lee Family
Jan Dool, Great Niece of Ella Ehoff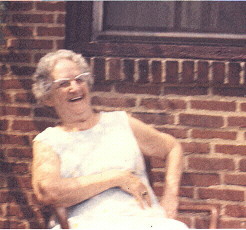 This contains the most part of our Family Inheritance as far back as I can remember. I hope you can get some real information concerning our family "tree" as I think this starts from the "Roots". I am the last one to survive and what I write is what I remember my Father and Mother telling us about our heritage. Ella Lee Ehoff. 1975 AGE 89
How our name became Lee:
When Father went through Immigration after coming to this country it seemed none of the immigration agents could pronounce his name right and did not spell it right. After all, very few people had an education those days. He had the same trouble when he went for his citizen's papers and this had him very upset, he would not accept the names like they pronounced. They persuaded him to shorten it. This they did, and he accepted it. They gave him the last 3 letters in his 'right name' and they are pronounced as they are spelled, Lee's, les is the last 3 letters in his name-Mariales. So, he accepted Lee. Sorry we lived in Virginia for 14 years and could not claim any of the Famous Virginia "Lees" as our relations.
My Fathers name was John George Mariales. He was born in the city called Smyrna, Greece of Greek parents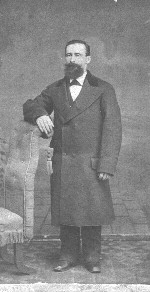 in 1847. He had a younger brother, his name was Andrew. Their parents died when they were very young. Father was the oldest and he was only 8 years old, he was too young to know what caused their deaths. They had 2 uncles on their Father's side and they were in the shipping business, hauled Lumber to different ports. One of them took my Father and his brother to live with them. Their families lived on the boats with them those days. It wasn't long after they went to live with him when his brother fell overboard and before they could rescue him, he drowned. That left Father alone.
He stayed with his Uncles until he was 14 years old, then he went to work on other Boats, as cabin boy. He worked on one of the biggest boats afloat them days. It was the Great Eastern and was called the "Wonder of the Waves". It has quite a history, was the only ship that could lay cables. This it did and the history can be found in the encyclopedia. Very interesting. He sailed on many other ships and learned rigging and sail making, that trade he followed up until he died. He made many trips to different countries and told us many interesting stories about his travel. Especially in the winter time, we would all sit around living room stove to keep warm and of course we were all ears, listening to him. He learned to speak several different languages. Mother used to say "Why don't you teach the children to speak Greek?" And he would say "they will have plenty to do if they learn how to speak the American language right!"

Marriage:
He had made several trips to New York and Philadelphia and in the year 1876 the year of our first centennial he decided to live on shore, so he chose Phila. Making sails for boats. Short while after he met Mother and after a few months they were married. The place where he worked they called it a sail Loft. It had to be big so they could spread out the sails to cut and sew them. He said he helped to cut out and make the 1st uniforms the Mummers (click to go to Mummers website) wore. They called them the New Years Shooters in them days. They were married in the Sacred Heart Catholic Church at 3rd and Reed Street. They also made their home on Reed St. below 3rd.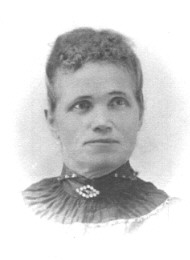 They had eight children-4 girls, 4-boys, seven was born at Reed St. John was born in Newport News, Va. Father also worked at Cramps Shipyard Building, here in Phila., at Delaware Ave. and Norris St. Was in operation for many years until WWII. It closed in 1890, there was a great depression that feel on this country. They didn't call it a depression, it was called a Panic. No work, all factories closed, no work to be had anywhere. The people had very little to eat. There were soup houses set up, where people stood in line and got a p itcher of s
oup and a loaf of bread for a family.
Newport News, Va.
It was a God send that the Newport News ship building and dry dock company started to build. They sent agents to all parts of the country to get mechanics and my Father was in the first assignment that left Philadelphia to go there. And it was a wilderness. He had to leave us here until he could find a place for us to live. So many people came and there was not much housing, had to take what you could get.
After 9 months he found a house, something that looked like a house, it had been used for a boat house and was right on the banks of the James River. He got busy and partitioned it off to make 3 bedrooms and a large kitchen, here we had to settle for that until things got better. The first avenue was up from the water front, and soon became a fashionable neighborhood. Only people who had money could live there, they built beautiful homes, that was at 35th St. and West Ave., where we lived. The entrance to the ship yard was then on 37th and Washington Ave., just one block east, that became the Main Street. All the business people settled there. We moved just one block east of Washington Ave., when Father found a larger house we stayed there, that was 35th St. & Huntington Ave.
Then Mother bought a lot in a new section called East End. After a couple of years they were able to have a 7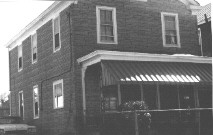 room house built in the East End of the City. I can still remember the number-1154 28th Street, near Chestnut Ave. If anyone ever makes a trip there, could look it up, it may still be there. (it is still there in 1997) We had many good times on the shore of the old James River. We went bare foot from June until September and was on the beach from early morning till late afternoon. There was one school house just one big room, 5 grades in it. I guess you know how much we learned. A.B.C's!! It was better when we moved to 28th street, they (the city) built a nice one story brick school and we all went there.
About 3 years living on 28th St., she bought a parcel of Land supposed to be 11 lots, still east of where we lived,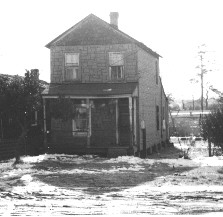 a place called Salter's Creek. There was only two full lots, the rest was Marsh Land, a creek ran through it, which opened up at Hampton Roads and the tide came and went. The house was built near the creek and we could swim, catch crabs and row a boat on the ole creek, that location is now on Poplar Ave., Lots 16, 17 and 18 near Salter's Creek. Everything was going good until 1904, then Father died. That ended our 'happy' days. We were living at the bungalow then. We moved back to our house on 28th street and here Mother died in 1906. I am ahead of my story, I will finish our days in Philadelphia and what happened. (picture taken in 1957)

Back to the beginning:
All of us children we born on Reed St. Phila., as I said, exception brother John. Oldest was a Girl, named Margaret Ellen, then came Maria. Then came Andrew-died shortly after birth. Margaret Ellen died at birth, then George, Ella, Catherina, Joe and John. Them days people shortened children's names for their convenience. Like for short Maria was Mamie. I was christened Alexandria (Elexandria) and was called Ella. Reanie was christened Catherina, Joe was christened Josefus and John was christened Johanus. After Reanie was born, Mother opened a little cigar store, sold candy, tobacco and soda I guess, just couldn't remember what she sold but it was convenient for the traffic that went down Reed St.
Brother George
As at the end of Reed St., there was a sugar refinery, it's still there, it was called Spreckels Refinery and lots of people worked there. The teams of horses that hauled sugar to be refined and barrel wagons them days they packed sugar in barrels and weighed it out by pounds. The men that drove the horses would go for lunch and leave their teams parked along the curb on the streets. The kids would climb up on the barrel wagons. So my brother George was 5 years old and he thought he could too. He tried and lost his grip, he fell and hit his head on the curb and damaged his brain. Mother took him to every doctor she thought could help him but the damage was done and he lost his hearing and his speech.
After moving to Newport News and he became 8 years old, my parents had to find a school for him and the only one there was for mute children was in Staunton, Va. (today, a school for the deaf is located within walking distance of the 'summer home') here they made appointments that he should attend school there. He would go for 9 months and come home for vacation for 3 months. This he did until his 17th year. He started to learn the shoe making trade, that pleased my parents an awful lot. He started when he was 14 years old. Mother thought he could start a shop at home because some of us children would be married and there would be room, but that was not to be. When he went back to school his 8th grade, then he was 17, he left on Saturday, September 1st and the next Saturday, him and another boy (14 years) went to the orchard to get apples. This they were allowed to do, but to get to the orchard they had to go through a railroad tunnel. So they waited until the 9 o'clock express had passed through, but there was an extra freight (B&O railroad) put on that day and it caught the 2 boys in the tunnel and both were killed. This really did so something to both my parents, also to us all, as we loved him very much.
Marriage for the Lee Children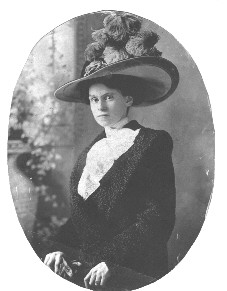 My sister Mamie was married in 1899, she married a young man from St. Michaels, Md. It was right after the American-Spanish War. His name was Charles Edward Collins. . They had a house built on a lot, on the other end of the lots where Father built a five room bunglow in Salter's Creek. They had 2 boys, John Edward and George Washington Collins. George was named after his paternal grandfather. Our dear little Eddie, his brother died at 5 years. Just another tragedy, he was playing with another child his age in an empty one room store, was a shoe and novelty store, but was empty. They went in and was swinging on the shelves when they collapsed and fell on them, the other child did not get hurt too bad but our dear little 'Eddie', that's what we called him, his liver was crushed and he died 3 days after. That was in 1905. Mother was very attached to him, she died the next year 1906.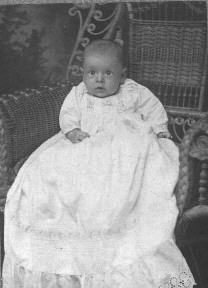 I was married in September 1904, Father died in April, but everything was planned for the wedding and we went through with it. My husband's name was Rudy Ehoff. You could say he was the 'boy next door', as his Father had a large truck farm close to our place at Salters Creek. That's how I met him. We had one child, a boy named Wilbert Francis Ehoff. We were living with mother when she died. After little Eddie's death my sister Mamie moved to Baltimore. Mother went to visit her, she was there 2 days when she took a stroke and died. Then we had her remains brought back and buried with my father.

This is when the family split up. I moved to Philadelphia. Reenie, John and Joe went to live with Mamie in Baltimore. John was only 12 years old, Joe was 14 and was learning a trade in the ship yard when this happened.
They lived quite a while in Baltimore, Reenie came to Phila., to live with me in 1912. She was here 2 years and got married, her husband was Wilbur S. Dool, they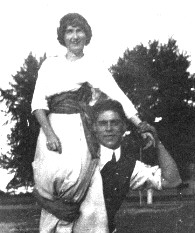 had 3 children. Catherine, Wilbur Jr. (Bill) and George. (Catherine and Wilbur pictured, to the left - Jan's grandparents)
Right before the 1st World War, John and Joe came to live with Reanie in Phila., they worked in the ship yard. John went into the service. WWI, he came home in 1919 after the war and got married to the girl he left behind, Rosella Hoffman. They had 6 living children. They moved to Arlington, Va.
John got work there in the Navy yard. All their children were raised and few were married there. Their children were Doris, Florance, John, Joe, Howard, and Paul. After retiring at the Navy yard, John and his wife moved to Brigantine,
New Jersey. They didn't live there but a few years when Rosella died in Atlantic City hospital. John only lived 2 years after and died while on a visit to his daughter in Texas. They are both buried in Arlington National Cemetery, Washington, D.C.
Joe was the last one to get married, he married Madaline McIntyre and they had the largest family living. They had six girls, one boy. Names Reana, Mary, Vera, Theresa, Peggy and Betty; a boy named Joseph, Jr. Madaline lived with her 2 daughters, Vera and Terry, they didn't marry. Joe got very sick and did not live long. He passed away April 14th, 1967. (pictured to the right, Rosella and John, and Joe and someone we don't remember)

Mother's Family - Cullnan
Mother was born in County Cork, Ireland of Irish parents. There was 6 Cullnan children; names Ellen, Catherine, Mary (my Mother's name) Margaret, Anna and brother Patrick. Their Mother's name before marriage was Margaret Sullivan, she married my Grandfather, his name was Cullnan (James). She did not live long, died young, her boy was only 2 years old. The oldest was 18 years old, she took care of the family while her Father worked.
When Catherine was 18 years old she came to this country with relatives, got work as housemaid in rich family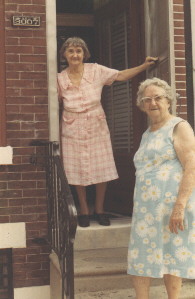 homes. Got $3.00 a week for general housework and saved enough money to bring her father here. He worked in the rolling mills, he had to leave the family in Ireland until he could send for them. This he did after a short while and they were all together again. The girls got work as maids and 2 of them went to work in weaving mills making broadcloth that was in much demand and made out O.K. As time went on they all got married and had small families, exception my mother. Catherine had none; Ellen had 2; Margaret had 2; Anna had one. My Uncle got married but didn't live long, he had one boy. He was only one year old when my Uncle died; up to this time there is none left. All died including their children. I am the only one living up to this date. Age 89 years, Dec. 9, 1975. "Ella"
Aunt Ella died on March 05, 1976, she lived to see the national celebration of the Bi-Centennial, which she was pleased to witness.
Left - Catherine "Lee" Dool (Reenie) and
Right - Ella "Lee" Ehoff, Mercer St. Phila, Pa.